Tips, Timelines, and Tech Support for Your Group and One-on-one Live Labs with an Oji Coach
Where do I join a Live Session?
The easiest way to join your Live Session is directly from the Oji Life Lab app. On the day of your scheduled Live Session, open up the Oji Life Lab app to your home screen and tap JOIN NOW.







Timelines and cancellations. "I can't make my scheduled Live Session, what do I do?"
No worries, we understand - life happens! While flexibility is key, we ask that you are mindful of our coaches time - try to reschedule with at least a day's notice when possible.
If you need to reschedule:
Step 1: Open the Oji Life Lab app and tap RESCHEDULE? on your home screen.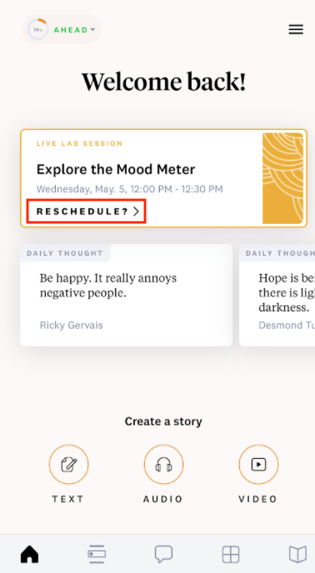 Step 2: Select RESCHEDULE? again, to view available dates and times.




Step 3: Your previously scheduled session will be highlighted in black - to change it simply tap on a new day and time that works best for you.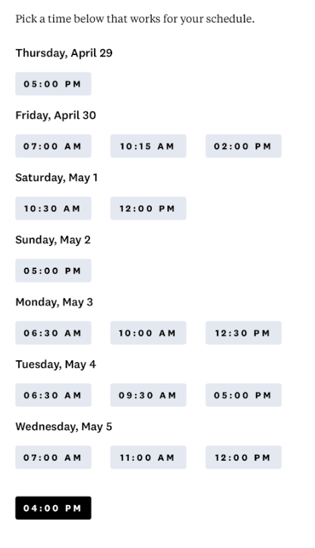 You're all set!
Your next step is the Live Lab you just scheduled. When the day and time arrives, simply return to the Home screen in the Oji Life Lab app and tap JOIN NOW. You won't need to enter any session IDs or passwords - everything's automatic.
Can I join from my own computer? Or just dial in?
Yes, you can join a session from your own computer using the Zoom information provided in the session description in the app or in your session confirmation email. We ask that you refrain from calling in, because the video chat element of our program is important.
How can I get in touch with a coach?
If you need to contact an Oji Life Lab coach, just click on the chat icon at the bottom of your screen.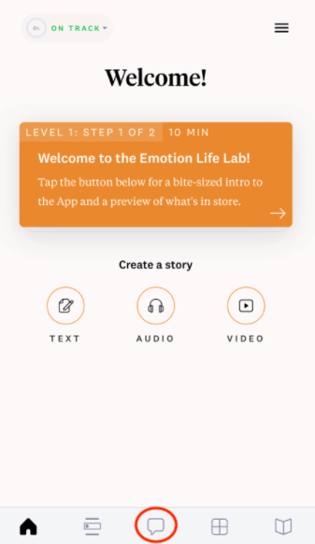 My coach didn't show
Oops! We're sorry to hear that. We do our very best to make the most of your valuable time during our Live Sessions. In the unlikely event that a coach does not make it to your Live Session, please let us know via coach chat or by emailing us at support@ojilifelab.com.
I need to report an issue
Please contact us at support@ojilifelab.com.
I'm running late. Will I still be able to join the session?
We know that sometimes things happen that prevent a learner from being on time. In an effort to minimize interruptions and because most sessions are only 15-30 minutes long, if a participant is more than 5 minutes late they must reschedule to allow sufficient time. We apologize for any inconvenience this may cause you. Please know that the goal of our coaching team is to make the most of your valuable time during our Live Sessions.
If you are running late, we encourage you to reschedule your session so that you can continue your Oji Life Lab journey.
If you can't make the scheduled session, no worries, life happens! If you need to reschedule, just open the Oji Life Lab app and tap RESCHEDULE? on your home screen. Thank you in advance for you understanding.
Live Lab Etiquette
Live Lab Code of Conduct
Our community is committed to standards of behavior that benefit everyone. Below, we list the key guidelines for our live sessions, which we call our Code of Conduct. As a participant in these sessions, we expect you'll keep these in mind and adhere to them.
Be supportive of others. The biggest development leaps are made in an encouraging and safe environment. Therefore, when participating in live sessions, it's important that the other learners can count on you to be supportive. When you can be positive, great. And when you have something negative in mind, please don't share it. Unkind behavior won't be tolerated.
If you have a question, ask it. The other participants will silently thank you for doing so.
Operate with integrity. When you act with honesty and sincerity, it encourages learning, for you and others.
Don't be disruptive. If you can't give your full attention for the duration of the Live Lab, please reschedule (ahead of time, if possible). If you can, please join the session from a quiet location, as noise at your location can become noise for everyone participating. If you must join from a noisy area, please mute your microphone when you are not speaking.
Keep it clean. Please keep the session PG-rated. Offensive or obscene language is not allowed.
Take privacy as seriously as we do. What happens in the Life Lab stays in the Life Lab. Participants will often provide personal context that may be tempting to share outside of the live session. Just don't. While we cannot guarantee the confidentiality of information shared during Live Labs, we expect everyone to respect the personal work others are doing to make positive changes in their lives (just like you!).
It's up to you to do the work. This Life Lab emphasizes doing over receiving, giving you lots of opportunities to integrate the key ideas into your own life. If you invest effort in the live sessions and My Turn activities, you'll see big gains. If you don't, you won't.